Growing Pains: The Evolution of a Journal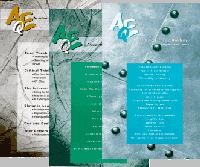 Academic Exchange Quarterly

The following article was published in the Academic Exchange Quarterly during my tenure with the journal as copy editor. Publication information is listed at the end of the essay.
That service-learning has become an important feature on the educational landscape is evidenced by the number and quality of articles received by the Academic Exchange Quarterly editors for this special edition. As a consequence, this issue is twice the size of our normal issue, and we will be including in the Spring issue an additional service-learning section of articles that, for reasons of space, we simply could not include in this issue. Academic Exchange Quarterly readers will, in effect, be receiving two additional issues worth of content for this academic subscription year.
As Copy Editor, it frequently falls to me to make those difficult decisions about placement of articles which have been approved for publication, determining in which issue an article will appear and in which section. In those early days of the journal, our thought was that the FOCUS section would feature articles evidencing serious and careful scholarship while the FYI section would feature descriptions of educational projects or practical teaching tips, and the POV section would provide an outlet for op-eds.
Certainly, the journal continues to publish articles of that nature, but as this issue makes plain, the FYI section has evolved to include shorter articles equal in scholarship to those featured in FOCUS. And the POV section has become a forum for longer, carefully researched perspective pieces, that are placed in POV for their emphasis on innovative, alternative, or controversial viewpoints.
Parallel to these developments has been the growth of Academic Exchange Online <http://www.higher-ed.org/AEQ/>. At first a means of promoting and supporting the journal, it has expanded to include
online tracking of submissions,
an author page featuring contributors,

a reader's review of individual articles and of the journal as a whole,
the Borderless Resource, for posting
professional news,
employment opportunities,
research projects,
theses- and dissertations-in-progress,

calls for out-of-print books, and

requests for information,
and the latest addition, the AE Extra with
book, web site, and software reviews,
editorials,
student writings,

personal and professional interest articles,
daily living tips, and more.
What's next? The editorial staff has discussed permanently expanding the size of the journal, extended growth of the journal leading to a full time editorial staff (to replace, regretfully, those of us who already have full time positions but who volunteer our time to make this journal possible), future directions for AE Extra, and the possibility of developing a professional Academic Exchange organization with regional conferences.
All of this sounds incredible, but then, who would have predicted we would be where we are today?
Bill Stifler
Copy Editor
Academic Exchange Quarterly 3.4 (1999).